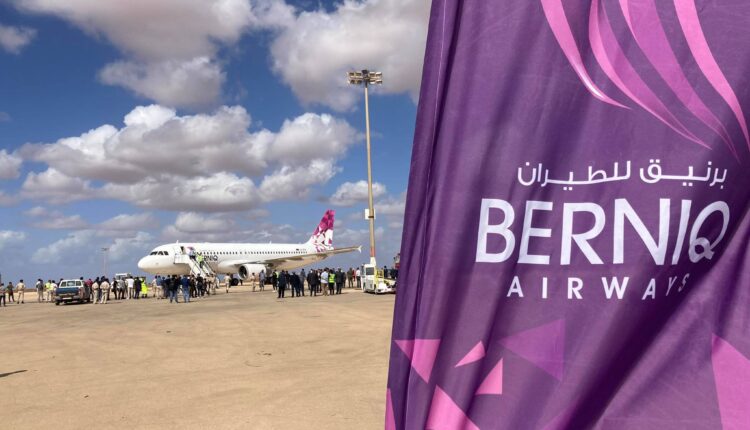 Exclusive: The Chairman of the Board of Directors of Berniq Airways presents, in an interview with our source, an important resume regarding it
The Chairman of the Board of Directors of Berniq Airways Company, Wassim Al-Zawi, spoke in an interview with our source, explaining: "Berniq Airways is a Libyan joint stock company established in 2018 with a capital of 200 million Libyan dinars, and the most prominent shareholder is the Trade and Development Bank with 40%. The rest of the percentage is distributed among a group of legal entities and businessmen."
Regarding the company's fleet and its destinations, Al-Zawi said:
"Berniq now owns a fleet of 5 Airbus 320 aircraft and is based in Benina Airport. It also has many internal destinations from various Libyan cities as well as many external destinations. It seeks to increase external destinations and new stations before the end of the current year 2023.
Berniq Airlines is also seeking to increase its fleet of aircraft to 7 aircraft before the end of this year as well, in response to the growth in aviation in the State of Libya."
As for the benefit of the employees of the Bank of Commerce and Development as the main shareholder in the company, he explained:
"We would like to state that there is no advantage for one shareholder over another. If we assume that a certain benefit has been granted to a shareholder in the company, the same benefit must be granted to other shareholders, as a matter of fairness and equality among shareholders."
Al-Zawi also talked about the most prominent future projects of the company:
"The company now has a set of aspirations and new projects. The company has already embarked on a project to establish an integrated training center that includes all the training requirements and meets the training needs of the Burniq company, and why not for other airlines, whether local or even from neighboring countries.
In addition, a specialized maintenance center owned by Berneq Company has been established, and it will be a precedent in Libya, helping in the maintenance work of the company and other companies, and reducing the expensive maintenance expenses in the world of aviation.
We are also working now to open a number of new stations, most notably Dubai, Jeddah, Medina, and Amman, as well as Niamey. In the future, we will turn our attention to Europe after lifting the ban on Libyan flights."
At the end of the conversation, the Chairman of Burniq Board of Directors spoke about the company's financing sources:
"The company relies on its capital and operational operations to provide financing sources. The General Assembly decided in its last meeting to increase the company's capital from 200 million to 500 million in order to face the expansion and increase of the fleet in the next stage."