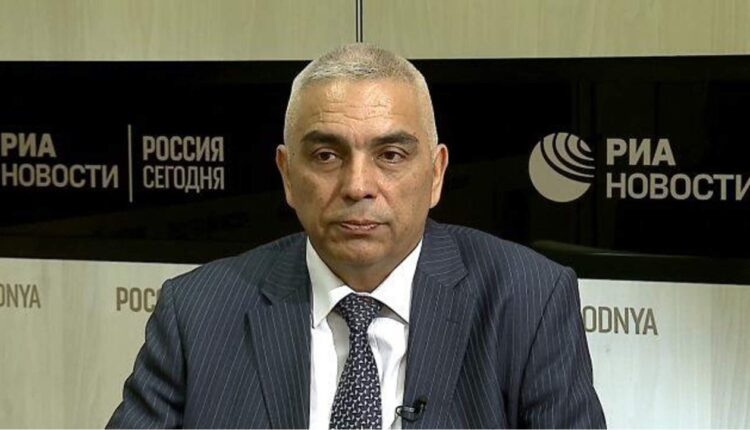 In a detailed meeting, the Chargé d'Affairs at the Embassy of Russia in Libya enumerates his country's economic plans in Libya to our source
Today, Thursday, our source exclusively conducted an interview with the Russian ambassador to Libya, Jamshid Poltaev, on many aspects, the most important of which are economic, and these are excerpts of the conversation:
Our source: "Tell us about your plans to reopen the Russian embassy. Can we talk about any specific dates?"
The Chargé d'Affairs at the Embassy of Russia in Libya: "Yes, there are such plans to reopen the Russian embassy. The decision was taken at the highest level, as the Russian President signed a decision regarding the resumption of our diplomatic presence in Libya, but questions still remain because they are related to the political situation and security in Libya. In addition, the building in which our embassy was located is already old and unusable, so we will need to search for a new building. We should not forget that Libya and Russia have very good and strong relations.
We hope for stability in Libya. Libyans can organize themselves and arrange things at least in the capital and then we resume our presence there in the meantime. Of course we do not sit here and wait. We are making concrete efforts to ensure the return of our embassy, but I cannot talk about specific dates yet.
Our source: "Today, food security is one of the most pressing and important issues for Libyans. Are there any negotiations between Russia and representatives of the Libyan government regarding the supply of grain and wheat?"
The Chargé d'Affairs at the Embassy of Russia in Libya: "I do not have official information about the supply of wheat and grain from Russia to Libya, but I heard about an interview with the Libyan ambassador in Moscow, Mohamed Al-Maghrawi, who said that preparations are underway to import 100,000 tons of wheat to Libya, but, it is better for the Libyan ambassador to clarify this request. We are ready, in the case of such requests, to interact, cooperate and assist."
Our source: "Has the general situation around Ukraine in the recent months affected the relationship between Russia and representatives of the Libyan government?"
The Chargé d'Affairs at the Embassy of Russia in Libya: "Yes, of course, the behavior has changed as Western countries work to influence the Libyan politicians, but at the embassy level, we do not feel any obstacles in dealing with the Libyan authorities. We are treated with good reception and interaction. Moreover, at the level of human communication, information is often highlighted that the Libyans themselves traditionally have a great attitude towards Russia and good relations with Libya. We seek to restore our trade, economic and political cooperation with this country, which means restoring sovereignty in Libya."
Our source: Speaking of restoring Russia's economic and commercial presence in Libya, I would like to ask about the prospects for companies that are already operating in Libya, such as Gazprom. Are there any difficulties in the presence of these companies today due to the pressures of sanctions on Russia?
The Chargé d'Affairs at the Embassy of Russia in Libya: "Of course, there are difficulties, but in fact, there is not a single government in Libya that can negotiate with or conclude long-term contracts with it in order to enter into negotiations and conclude deals. It is necessary for there to be a responsible government that governs the country and concludes contracts, at least for some period of time that can be predicted today in Libya.
We had contracts with Russian railways but now we are trying to restore those contracts. We have direct requests from both the Libyan and the Russian sides. We are now trying to get them all back. There is a presence for Gazprom and there are debt problems due to force majeure, but this is commercial information. It is better to contact the company directly. There is an operating company called "Tatneft", which is now operating in some places where there is a license to operate
He continued by saying: "There are a very large number of requests from small Russian companies that want to enter the Libyan market, and unlike Libya, they want to receive medical services in Russia. I know that the Russian Embassy is working today to expand the possibilities of providing medical services to Libyans in Russia. This is the reason behind the expansion and continuity of contacts, the only problem remaining is instability."
Our source: "For Libyan citizens, the issue of obtaining visas remains relevant as well, including the Russian visa for those who, for example, plan to work or study in Russia. Are there any difficulties that Libyan citizens face in this regard?"
The Chargé d'Affairs at the Embassy of Russia in Libya: "There are no problems. Perhaps these are only some hints related to the current political situation, in the context of the special operation in Ukraine due to rumors that Russia has stopped issuing visas to Libyans. This is not true.
Libyans apply in the same general way that all citizens of foreign countries apply to embassies if you apply to our embassy. We work from Tunisia, and Libyans in Tunisia will get visas from us. People immigrate for different purposes, including Libyans married to Russian women to study and for other purposes. Also, we are more involved in issuing visas for political contacts for people who travel for official purposes.
I can also say that we recently resumed exchanges and invitations to members of the Libyan Ministry of Interior to attend short-term courses, and we are contributing to this in every possible way to help the travel of Libyan citizens to Russia.
Now there are more problems related to logistics, because as you know there are difficulties in air communications in Russia now, but with regard to the visa, everything remains the same. We are not preventing, on the contrary, we are trying to facilitate the Libyans' visit to Russia."