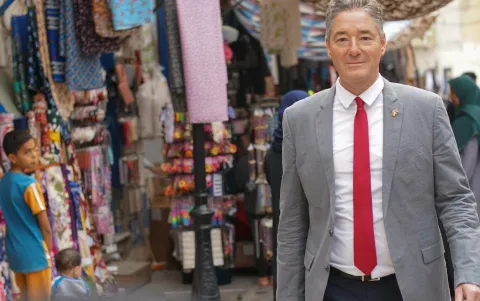 In a press interview with our source, the German ambassador reveals the return of his country's embassy and the fate of Libyan funds in Germany
Our source conducted an exclusive interview with the German Ambassador to Libya, Michael Ohnmacht where the meeting tackled various topics:
Here are the excerpts:
Our source: "Do you have plans this year to reopen your embassy in the capital, Tripoli?"
Ambassador: "The German Embassy in Tripoli had already reopened its doors and German diplomats are working there. We communicate and talk with Libyan politicians, businessmen, and civil society not only in Tripoli but also through visits to other cities in Libya, such as Misrata, Benghazi and Tobruk. We were pleased by receiving our Libyan guests at our embassy for the first time in nine years, the last year 2022, on the occasion of the National Day of the German Republic. We also wanted to send a clear message: We are present and we gradually want to work more closely with Libya, and for this, we will increase our presence during the next few years.
However, this expansion of the Embassy's presence is a process that takes time. I understand very well that for many Libyans, issuing visas from within Libya is the biggest communication opportunity with the Embassy, so our goal is to be able to issue
Visas in Libya. Until we fully achieve this goal, there will be temporary solutions to this issue in the meantime."
Our source: "It is known that Wintershall is a giant company in the world. Is there a specific date for the completion of its projects and exploration for Libyan oil?"
Ambassador: "The Wintershall Oil Company is already active all over the world, but as a private company it is natural to decide independently where and how it wants to operate, but I have the impression that the relations between Wintershall Oil Company and its Libyan partners are very good, which applies to any German company that practices any kind of Economic activities is: Wherever there is a need to provide any support in particular, we are ready to be a link."
Our source: "It is indicated that the Libyan funds frozen in Germany are estimated at 7 million dollars. When do you think this money can be released?"
Ambassador: "As is the case in other countries, the aforementioned funds are frozen on the basis of a decision issued by the United Nations, and therefore the countries in which the funds were frozen cannot decide for themselves whether to release these funds."